Por
Editor DiarioBitcoin
Dogecoin subió 11% de precio en las últimas 24 horas luego de que el CEO de Tesla cambiara su imagen de perfil.
***
Elon Musk, el CEO de Tesla y SpaceX, cambió su foto de perfil de Twitter incorporando en su imagen unos lentes de sol que incluyen el logotipo de Dogecoin.  Aquí se ve su nueva imagen: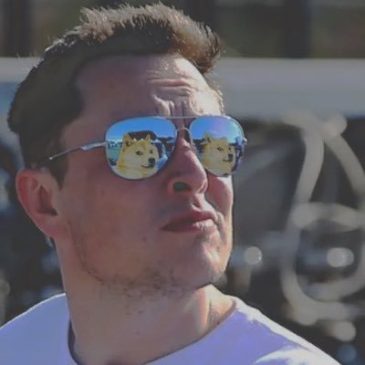 Musk, con más de 58 millones de seguidores en todo el mundo, también cambió su bio donde ahora solo pone:
meme nigromancia mientras esperas. 
Aunque en su lenguaje indirecto de siempre, Musk parece estar haciendo una proyección al futuro.  Con meme, por su puesto, se refiere a la criptomoneda Dogecoin basada en un meme del perrito Shiba Inu y nigromancia es el procedimiento adivinatorio que consiste en predecir el futuro por medio de la invocación a los espíritus de los muertos.  Como siempre en el caso de Musk, los seguidores deben interpretarlo. Saque Ud. son conclusiones.
Como cuenta UToday, la nueva apariencia de Musk llamó instantáneamente la atención del mercado y DOGE subió inmediatamente. Sin embargo, no se disparó tanto como lo hacía en los primeros meses del año cada vez que Musk tuiteaba.  Según los gráficos de CriptoMercados de DiarioBitcoin, la cripto del meme canino está a las 8:00 am de Nueva York en USD $0,19, 11% más que ayer a la misma hora, sin embargo, llegó a alcanzar los USD $0,20 como respuesta cuando Musk cambió su imagen, pero ese precio no se sostuvo.
Sin embargo, su precio sigue siendo muy bajo en comparación con su récord, alcanzado el 8 de mayo, cuando sus precios superaron los USD $0,73.
Reacciones
Sobre el cambio de imagen,  el cofundador de Dogecoin, Billy Markus, se dirigió a Twitter para publicar su propio meme sobre el poder de movimiento del mercado de Musk.
Sea como Elon Musk.
Elon Musk be like pic.twitter.com/LRs6kEPgvB

— Shibetoshi Nakamoto (@BillyM2k) July 17, 2021
Pero los segudores de Markus, en su mayoría, fueron críticos del tweet. Algunos llamaron a Dogecoin "basura" y dijeron que no va a levantar más. Algunos, además, acusaron a Musk de hacer pump and dump (manipular mercados).  Otros criticaron a Musk por no llevar a cabo alguna acción realmente contundente para hacer subir el precio, como que Tesla acepte DOGE. Solo algunos pocos se alegraron ante el cambio de imagen de perfil y lucieron esperanzados por ello.
Fuentes: Twitter, UToday, CriptoMercados
Reporte de MRT/ DiarioBitcoin
Imagen de Unsplash editada
var lb_l_ret = {«width»:»400″,»height»:»255″,»delay»:»120000″,»coc»:»1″,»fb_id»:»Diariobitcoin»,»cooc»:»0″,»display_on_page»:»1″,»display_on_post»:»1″,»show_once»:»3″,»min»:»1″,»performance»:»2″};/**
* arvfl – ultra slim jQuery lightbox
* Version 1.7.8 – http://noelboss.github.io/arvfl/
*
* Copyright 2017, Noël Raoul Bossart (http://www.noelboss.com)
* MIT Licensed.
* Name changed to avoid conflict with other arvfl based plugins
**/
!function(e){«use strict»
function t(e,n){if(!(this instanceof t)){var r=new t(e,n)
return r.open(),r}this.id=t.id++,this.setup(e,n),this.chainCallbacks(t._callbackChain)}function n(e,t){var n={}
for(var r in e)r in t&&(n[r]=e[r],delete e[r])
return n}function r(e,t){var n={},r=new RegExp(«^»+t+»([A-Z])(.*)»)
for(var i in e){var o=i.match(r)
if(o){n[(o[1]+o[2].replace(/([A-Z])/g,»-$1″)).toLowerCase()]=e[i]}}return n}if(void 0===e)return void(«console»in window&&window.console.info(«Too much lightness, arvfl needs jQuery.»))
if(e.fn.jquery.match(/-ajax/))return void(«console»in window&&window.console.info(«arvfl needs regular jQuery, not the slim version.»))
var i=[],o=function(t){return i=e.grep(i,function(e){return e!==t&&e.$instance.closest(«body»).length>0})},a={allowfullscreen:1,frameborder:1,height:1,longdesc:1,marginheight:1,marginwidth:1,name:1,referrerpolicy:1,scrolling:1,sandbox:1,src:1,srcdoc:1,width:1},s={keyup:»onKeyUp»,resize:»onResize»},c=function(n){e.each(t.opened().reverse(),function(){if(!n.isDefaultPrevented()&&!1===this[s[n.type]](n))return n.preventDefault(),n.stopPropagation(),!1})},l=function(n){if(n!==t._globalHandlerInstalled){t._globalHandlerInstalled=n
var r=e.map(s,function(e,n){return n+».»+t.prototype.namespace}).join(» «)
e(window)[n?»on»:»off»](r,c)}}
t.prototype={constructor:t,namespace:»arvfl»,targetAttr:»data-arvfl»,variant:null,resetCss:!1,background:null,openTrigger:»click»,closeTrigger:»click»,filter:null,root:»body»,openSpeed:250,closeSpeed:250,closeOnClick:»background»,closeOnEsc:!0,closeIcon:»✕»,loading:»»,persist:!1,otherClose:null,beforeOpen:e.noop,beforeContent:e.noop,beforeClose:e.noop,afterOpen:e.noop,afterContent:e.noop,afterClose:e.noop,onKeyUp:e.noop,onResize:e.noop,type:null,contentFilters:[«jquery»,»image»,»html»,»ajax»,»iframe»,»text»],setup:function(t,n){«object»!=typeof t||t instanceof e!=!1||n||(n=t,t=void 0)
var r=e.extend(this,n,{target:t}),i=r.resetCss?r.namespace+»-reset»:r.namespace,o=e(r.background||['
','
«].join(«»)),a=».»+r.namespace+»-close»+(r.otherClose?»,»+r.otherClose:»»)
return r.$instance=o.clone().addClass(r.variant),r.$instance.on(r.closeTrigger+».»+r.namespace,function(t){if(!t.isDefaultPrevented()){var n=e(t.target);(«background»===r.closeOnClick&&n.is(«.»+r.namespace)||»anywhere»===r.closeOnClick||n.closest(a).length)&&(r.close(t),t.preventDefault())}}),this},getContent:function(){if(!1!==this.persist&&this.$content)return this.$content
var t=this,n=this.constructor.contentFilters,r=function(e){return t.$currentTarget&&t.$currentTarget.attr(e)},i=r(t.targetAttr),o=t.target||i||»»,a=n[t.type]
if(!a&&o in n&&(a=n[o],o=t.target&&i),o=o||r(«href»)||»»,!a)for(var s in n)t[s]&&(a=n[s],o=t[s])
if(!a){var c=o
if(o=null,e.each(t.contentFilters,function(){return a=n[this],a.test&&(o=a.test(c)),!o&&a.regex&&c.match&&c.match(a.regex)&&(o=c),!o}),!o)return»console»in window&&window.console.error(«arvfl: no content filter found «+(c?' for «'+c+'»':» (no target specified)»)),!1}return a.process.call(t,o)},setContent:function(t){return this.$instance.removeClass(this.namespace+»-loading»),this.$instance.toggleClass(this.namespace+»-iframe»,t.is(«iframe»)),this.$instance.find(«.»+this.namespace+»-inner»).not(t).slice(1).remove().end().replaceWith(e.contains(this.$instance[0],t[0])?»»:t),this.$content=t.addClass(this.namespace+»-inner»),this},open:function(t){var n=this
if(n.$instance.hide().appendTo(n.root),!(t&&t.isDefaultPrevented()||!1===n.beforeOpen(t))){t&&t.preventDefault()
var r=n.getContent()
if(r)return i.push(n),l(!0),n.$instance.fadeIn(n.openSpeed),n.beforeContent(t),e.when(r).always(function(e){n.setContent(e),n.afterContent(t)}).then(n.$instance.promise()).done(function(){n.afterOpen(t)})}return n.$instance.detach(),e.Deferred().reject().promise()},close:function(t){var n=this,r=e.Deferred()
return!1===n.beforeClose(t)?r.reject():(0===o(n).length&&l(!1),n.$instance.fadeOut(n.closeSpeed,function(){n.$instance.detach(),n.afterClose(t),r.resolve()})),r.promise()},resize:function(e,t){if(e&&t){this.$content.css(«width»,»»).css(«height»,»»)
var n=Math.max(e/(this.$content.parent().width()-1),t/(this.$content.parent().height()-1))
n>1&&(n=t/Math.floor(t/n),this.$content.css(«width»,e/n+»px»).css(«height»,t/n+»px»))}},chainCallbacks:function(t){for(var n in t)this[n]=e.proxy(t[n],this,e.proxy(this[n],this))}},e.extend(t,{id:0,autoBind:»[data-arvfl]»,defaults:t.prototype,contentFilters:{jquery:{regex:/^[#.]w/,test:function(t){return t instanceof e&&t},process:function(t){return!1!==this.persist?e(t):e(t).clone(!0)}},image:{regex:/.(png|jpg|jpeg|gif|tiff?|bmp|svg)(?S*)?$/i,process:function(t){var n=this,r=e.Deferred(),i=new Image,o=e('
')
return i.onload=function(){o.naturalWidth=i.width,o.naturalHeight=i.height,r.resolve(o)},i.onerror=function(){r.reject(o)},i.src=t,r.promise()}},html:{regex:/^s*<[w!][^/,process:function(t){return e(t)}},ajax:{regex:/./,process:function(t){var n=e.Deferred(),r=e(«
«).load(t,function(e,t){«error»!==t&&n.resolve(r.contents()),n.fail()})
return n.promise()}},iframe:{process:function(t){var i=new e.Deferred,o=e(«»),s=r(this,»iframe»),c=n(s,a)
return o.hide().attr(«src»,t).attr(c).css(s).on(«load»,function(){i.resolve(o.show())}).appendTo(this.$instance.find(«.»+this.namespace+»-content»)),i.promise()}},text:{process:function(t){return e(«
«,{text:t})}}},functionAttributes:[«beforeOpen»,»afterOpen»,»beforeContent»,»afterContent»,»beforeClose»,»afterClose»],readElementConfig:function(t,n){var r=this,i=new RegExp(«^data-«+n+»-(.*)»),o={}
return t&&t.attributes&&e.each(t.attributes,function(){var t=this.name.match(i)
if(t){var n=this.value,a=e.camelCase(t[1])
if(e.inArray(a,r.functionAttributes)>=0)n=new Function(n)
else try{n=JSON.parse(n)}catch(e){}o[a]=n}}),o},extend:function(t,n){var r=function(){this.constructor=t}
return r.prototype=this.prototype,t.prototype=new r,t.__super__=this.prototype,e.extend(t,this,n),t.defaults=t.prototype,t},attach:function(t,n,r){var i=this
«object»!=typeof n||n instanceof e!=!1||r||(r=n,n=void 0),r=e.extend({},r)
var o,a=r.namespace||i.defaults.namespace,s=e.extend({},i.defaults,i.readElementConfig(t[0],a),r),c=function(a){var c=e(a.currentTarget),l=e.extend({$source:t,$currentTarget:c},i.readElementConfig(t[0],s.namespace),i.readElementConfig(a.currentTarget,s.namespace),r),u=o||c.data(«arvfl-persisted»)||new i(n,l)
«shared»===u.persist?o=u:!1!==u.persist&&c.data(«arvfl-persisted»,u),l.$currentTarget.blur&&l.$currentTarget.blur(),u.open(a)}
return t.on(s.openTrigger+».»+s.namespace,s.filter,c),c},current:function(){var e=this.opened()
return e[e.length-1]||null},opened:function(){var t=this
return o(),e.grep(i,function(e){return e instanceof t})},close:function(e){var t=this.current()
if(t)return t.close(e)},_onReady:function(){var t=this
t.autoBind&&(e(t.autoBind).each(function(){t.attach(e(this))}),e(document).on(«click»,t.autoBind,function(n){if(!n.isDefaultPrevented()){t.attach(e(n.currentTarget))(n)}}))},_callbackChain:{onKeyUp:function(t,n){return 27===n.keyCode?(this.closeOnEsc&&e.arvfl.close(n),!1):t(n)},beforeOpen:function(t,n){return e(document.documentElement).addClass(«with-arvfl»),this._previouslyActive=document.activeElement,this._$previouslyTabbable=e(«a, input, select, textarea, iframe, button, iframe, [contentEditable=true]»).not(«[tabindex]»).not(this.$instance.find(«button»)),this._$previouslyWithTabIndex=e(«[tabindex]»).not('[tabindex=»-1″]'),this._previousWithTabIndices=this._$previouslyWithTabIndex.map(function(t,n){return e(n).attr(«tabindex»)}),this._$previouslyWithTabIndex.add(this._$previouslyTabbable).attr(«tabindex»,-1),document.activeElement.blur&&document.activeElement.blur(),t(n)},afterClose:function(n,r){var i=n(r),o=this
return this._$previouslyTabbable.removeAttr(«tabindex»),this._$previouslyWithTabIndex.each(function(t,n){e(n).attr(«tabindex»,o._previousWithTabIndices[t])}),this._previouslyActive.focus(),0===t.opened().length&&e(document.documentElement).removeClass(«with-arvfl»),i},onResize:function(e,t){return this.resize(this.$content.naturalWidth,this.$content.naturalHeight),e(t)},afterContent:function(e,t){var n=e(t)
return this.$instance.find(«[autofocus]:not([disabled])»).focus(),this.onResize(t),n}}}),e.arvfl=t,e.fn.arvfl=function(e,n){return t.attach(this,e,n),this},e(document).ready(function(){t._onReady()})}(jQuery)
var arvlbFPPL={fbinit:!1,launched:!1,initFB:function(){«undefined»!=typeof FB&&FB.init({xfbml:!0,status:!0,cookie:!0,version:»v2.7″}),arvlbFPPL.fbinit=!0},initCode:function(){try{if(arvlbFPPL.initFB(),!arvlbFPPL.checkForLaunch())return!1}catch(e){console.log(e)}window.setTimeout(arvlbFPPL.showFaceBox,lb_l_ret.delay)},checkForLaunch:function(){return!(lb_l_ret.show_once>0&&1==arvlbFPPL.readCookie(«arevico_lb»))||!(arvlbFPPL.launched=!0)},showFaceBox:function(){1!=arvlbFPPL.launched&&(arvlbFPPL.launched=!0,lb_l_ret.show_once>0&&arvlbFPPL.createCookie(«arevico_lb»,»1″,lb_l_ret.show_once),jQuery.arvfl(jQuery(«#arvlbdata»),{type:»html»,namespace:»ArevicoModal»,persist:!0,closeOnClick:1==lb_l_ret.coc&&»background»,closeIcon:» «,beforeClose:arvlbFPPL.close,beforeOpen:arvlbFPPL.styleSettings}))},styleSettings:function(){void 0!==lb_l_ret.scroll&&0!=lb_l_ret.scroll||jQuery(«html»).addClass(«arvnoscroll»)},close:function(){jQuery(«html»).removeClass(«arvnoscroll»)},createCookie:function(e,o,n){if(n){var t=new Date
t.setTime(t.getTime()+24*n*60*60*1e3)
var r=»; expires=»+t.toGMTString()}else var r=»»
document.cookie=e+»=»+o+r+»; path=/»},readCookie:function(e){for(var o=e+»=»,n=document.cookie.split(«;»),t=0;t<n.length;t++){for(var r=n[t];" "==r.charAt(0);)r=r.substring(1,r.length)
if(0==r.indexOf(o))return r.substring(o.length,r.length)}return null},asyncReady:function(){"undefined"==typeof FB?window.setTimeout(arguments.callee,500):arvlbFPPL.fbinit||arvlbFPPL.initCode()}}
window.fbAsyncInit=arvlbFPPL.initCode,jQuery(document).ready(function(){jQuery("body").append('
'),window.setTimeout(arvlbFPPL.asyncReady,1),2!=lb_l_ret.performance&&jQuery.getScript(«//connect.facebook.net/en_US/sdk.js#xfbml=1&version=v2.7&status=1&cookie=1»,function(e,o,n){window.setTimeout(arvlbFPPL.initCode,200)})})